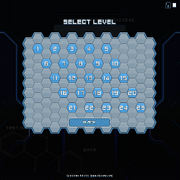 A
level
is a part of a game testing the player's skills to see how well they can be used. Levels may be prominently displayed on the game's
menu
(particularly in main games) or, like mini games, may not allow players to pick up where they left off when they quit or lose the game.
The first few levels of a main game usually display helpful hints through signs or quotations from characters that introduce a new concept or component to the game. The concept will be emphasized throughout that particular level, expecting players to master it in order to successfully complete the level. These concepts are usually reintroduced in later levels to see if the player can bypass them again.
After a while, no hints will be given and often, new spins on common tasks will be given to see if players have what it takes to beat the game.
Links between levels
In most cases, games with many levels may have the stages shorter in length, while games with a lower number of levels may have the stages longer in length. The gap of difficulty between levels is also notable, as games with fewer levels will have a greater increase in difficulty and those with a greater number of levels will have a smaller incline in the level of difficulty.
Games
Below is a list of games with their number of levels. Any secret bonus levels not displayed on the game's menu will not be included.
Game
No. of levels
Magic Touch, Cosmic Cannon, Gift Wrapped, Snot Put, Squawk, Calamari, Super Snot Put, Endless Doves, Roller Polar, Platform Panic, Magic Touch: Wizard for Hire, Cooped Up, Vault!, Gopogo (endless mode), Rust Bucket (Endless Mode)
None
Tiny Castle
1
B.C. Bow Contest

*, Blast RPG

6
Nanobots (including level 0), Tanked Up, Test Subject Arena 2
8
Chick Flick, Gunbrick
9
Frost Bite, Frost Bite 2, Gunbrick, Ice Beak, J-J-Jump, Frost Bite 2, Rush

*

, Cheese Dreams: New Moon
10
Turnament
11
Double Edged, Bump Battle Royale
12
Test Subject Arena,
14
Sandman, Feed Me!, Dangle, Mutiny, Cave Chaos 2, Flipside, Pixel Pop, Graveyard Shift, Avalanche, Sky Serpents, Oodlegobs, Flue
15
Coil
16
Hot Air Jr
17
Mallet Mania, Flash Cat
18
Skywire, Space Hopper, Toxic, Canopy, Mega Mash, Onekey, Final Ninja, Off The Rails, Thin Ice, Snow Drift, Aquanaut, Cheese Dreams, Toxic 2, Parasite, Cave Chaos, Bullethead, Ribbit, Worm Food, Temple Glider, The Bucket, Canopy, Mega Mash, Stumped, Lockehorn

*

, Test Subject Arena 2, Fluffball, Rust Bucket
20
Fat Cat, Colour Blind
21
Rockitty, Super Stock Take
22
Canary, Dirk Valentine, Final Ninja Zero (including level 0), Enemy 585, Super Treadmill, Canary, Plunger, Turn-Undead
24
Scribble, Swindler 2, Swindler, Twang, Yin Yang, Headcase, Hot Air!, Small Fry, Knuckleheads, Test Subject Green, Castle Corp, Test Subject Blue, Swindler, Swindler 2, Plunger

25

ChangeType()
29
Roly Poly, Hot Air 2, Bomba, Skywire 2, Office Trap, Rush, Mirror Image, Bomba, Droplets, Nebula, Cold Storage, Rubble Trouble New York, Chisel, Fault Line, Chisel 2, Knight Trap, Silly Sausage, Rubble Trouble Tokyo, Rubble Trouble Moscow, Test Subject Complete, 8bit Doves
30
Power Up
32
Lockehorn

*

34
Pest Control, Gunbrick (mobile)
36
Jack Frost, In The Dog House, Icebreaker, Ice Breaker: The Gathering, Bad Ice-Cream, Rainbogeddon, Bad Ice-Cream 2, Ditto, Beneath The Lighthouse
40
Bad Ice-Cream 3
41
Steamlands
47
Steamlands Player Pack
49
Square Meal, Magneboy, Numbskull, Twin Shot
50
Green Ninja
65
Skywire VIP, Skywire VIP Extended, Twin Shot 2, Nitrome Must Die

*

, Skywire VIP Shuffle
100
Icebreaker: A Viking Voyage
140
Trivia
The majority of Nitrome games have 20 levels, 24 Nitrome games having 20 levels.
Community content is available under
CC-BY-SA
unless otherwise noted.