Skywire VIP Extended is a quiz game that serves as the fourth instalment to the Skywire series and the second in the "VIP" collection of Skywire games. It was initially created and uploaded to the Scratch website on January 9, 2012. The game would later be discovered by Nitrome, who released a version of it to their website on March 9, 2012 with slight modifications.
Controls
Keyboard keys: 1, 2, 3, 4, 5, 6, 7, 8, 9, 0, A, B, C, D, E, F, G, H, I, J, K, L, M, N, O, P, Q, R, S, T, U, V, W, X, Y, Z.
A few mouse clicks are required to toggle sound and adjust the positioning of the cursor.
Gameplay
As with the other VIP games, the player is presented with a figure or group of figures in the form of a bean person. The player is to correctly identify the figure or group in order to progress and be presented with another individual. In the Nitrome.com, the player can select the spotlight icon to receive a hint.
Introduction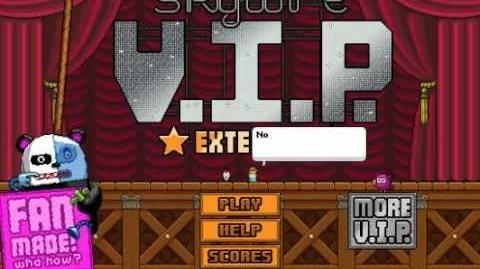 Levels
A cable car will drop off a passenger on the stage, and the player has to write where the character is from, or the characters name. If the player gets stuck, they can click a spotlight with a "?" on a yellow background to get a hint, but when they complete the question, they only get 50 points, instead of the usual 100.
Legend
There are 100 groups of one or more bean people that the player must figure out in the Nitrome game. Below are the answers for the Nitrome version of the game.
Level
Sprite
Text chars.
Hint
Answer
01

13
Childrens' book character. A tubby little cubby stuffed with fluff.
Winnie the Pooh
02

7
Nintendo's successful game and trading card series.
Pokemon
03

Charles Schultz's famous comic strip characters.
Peanuts
04

14
Dr. Seuss's famous feline.
The Cat in the Hat
05

11
Popular animated Pixar movie.
Monsters Inc
06

10
Popular Japanese character.
Hello Kitty
07

17
Tim Burton's take on a classic tale.
Alice in Wonderland
08

11
Cat and mouse cartoon characters.
Tom and Jerry
09

9
Jamaican reggae artist, mon!
Bob Marley
10

12
1980s American sitcom.
The Cosby Show
11

14
Breakfast cereal mascots.
Snap Crackle Pop!
12

15
Childrens' cartoon character es espanol.
Dora the Explorer
13

9
Popular British sci-fi series.
Doctor Who
14

5
Nintendo's lovable pink puffball.
Kirby
15

20
Popular singing rodent trio.
Alvin and the Chipmunks
16

10
Popular game featuring furious feathered friends.
Angry Birds
17

9
Successful PC game by Mojang.
Minecraft
18

6
Popular puzzle game by Valve.
Portal
19

16
He's a jolly, happy soul!
Frosty the Snowman
20

Popular sitcom featuring socially-awkward science geeks.
The Big Bang Theory
21

15
Comic strip character by Bill Watterson.
Calvin and Hobbes
22

16
Famous royal girls from many movies.
Disney Princessess
23

11
Warner Bros cartoon characters.
Looney Tunes
24

8
Popular vampire romance books and films by Stephenie Meyer.
Twilight
25

29
Roald Dahl book and Tim Burton movie.
Charlie and the Chocolate Factory
26

9
Papa's the leader of this blue bunch.
The Smurfs
27

10
Famous video game character who began in the 80s.
Donkey Kong
28

6
Famous children's show dinosaur.
Barney
29

8
Another game by Nitrome.
Enemy 585
30

17
Famous Marvel superhero.
The Incredible Hulk
31

12
Popular shooter by Valve.
Team Fortress
32

14
Silent film actor.
Charlie Chaplin
33

21
Maurice Sendak's book about Max.'
Where the Wild Things Are
34

14
Marvel's famous comic book character.
Captain America
35

11
TV show for toddlers.
Teletubbies
36

16
I gotta feeling you already know this singing group!
The Black Eyed Peas
37

7
Capcom's video game character who started in the 80s.
Megaman [

sic

]
38

26
Dr. Seuss's Christmas character - he's a mean one!
How the Grinch Stole Christmas
39

14
Nintendo game featuring Tom Nook, K K Slider and more lovable animals.
Animal Crossing
40

4
The mascot for the Japanese Broadcasting Corporation.
Domo
41

7
Marvel's superhero who wears a robotic suit.
Iron Man
42

9
Nitrome's 2011 Christmas Game.
Lockehorn
43

11
Movie and theatrical short characters.
Pink Panther
44

26
She ate their breakfast and broke their chairs.
Goldilocks and the Three Bears
45

27
Animated Tim Burton halloween [

sic

] themed movie.
The Nightmare Before Christmas
46

27
Douglas Adam's book featuring Zaphod Beeblebrox.
Hitchhiker's Guide to the Galaxy
47

14
American television series featuring a trio of super powered girls.
Power Puff [

sic

] Girls
48

6
Children's cartoon aardvark.
Arthur
49

14
Pixar's famous superhero family movie.
The Incredibles
50

11
Japanese manga and anime show.
Dragonball [

sic

] Z
51

21
Herge's famous young reporter.
The Adventures of Tintin
52

14
J.R.R. Tolkein's book and movie adaptation..
Lord of the Rings
53

6
Disney movie about a jungle guy and a girlfriend named Jane.
Tarzan
54

9
Retro videogame by Hudson Soft.
Bomberman
55

TV show about colorful [

sic

] cuddly teddies.
Care Bears
56

12
Never say never to this Canadian teen pop star.
Justin Bieber
57

American live action TV show with plenty of merchandise.
Power Rangers
58

9
Another game by Nitrome.
Fault Line
59

3
Christmas comedy featuring Will Ferrel [

sic

].
Elf
60

7
Children's television show about a bunch of babies.
Rugrats
61

6
Rowan Atkinson's alter comedy ego.
Mr Bean
62

5
Cartoon character from the 80s.
He-Man
63

13
Can he fix it? Yes he can!
Bob the Builder
64

7
80s science fiction film.
Robocop
65

Popular internet cat.
Nyan Cat
66

10
Popular manga and anime by Naoko Takeuchi.
Sailor Moon
67

15
Popular iPod game by PopCap.
Plants vs Zombies
68

12
DC comic book and movie.
Green Lantern
69

7
Nintendo game that dates back to the 80s.
Metroid
70

9
Marvel superhero who is in the X-men.
Wolverine
71

Famous singer who even got knighted by the queen.
Elton John
72

10
Movie about people who guard against extra-terrestrial violence.
Men in Black
73

6
Another game by Nitrome.
Chisel
74

17
Popular cookie character.
The Gingerbread Man
75

10
These jungle animals like to move it, move it!
Madagascar
76

14
Cotton-tailed egg deliverer.
The Easter Bunny
77

5
Futuristic animated film by Pixar.
Wall-E
78

9
Boop-boop-be-doo!
Betty Boop
79

12
A Nitrome Entertainment System game.
Silly Sausage
80

6
Manga and anime by Masashi Kishimoto.
Naruto
81

10
Famous singer known also as Ziggy Stardust.
David Bowie
82

8
Popular character by Hanna-Barbera productions.
Yogi Bear
83

15
British troublemaker and his dog, Gnasher. From the Beano comics.
Dennis the Menace
84

9
Nintendo's greek [

sic

] mythology-themed video game that started in the 80s.
Kid Icarus
85

8
Dr. Seuss character that speaks for the trees.
The Lorax
86

18
Famous playwright and poet.
William Shakespeare
87

6
James Cameron's movie.
Avatar
88

Another game by Nitrome.
Canopy
89

13
E.B. White's book about a spider and a pig.
Charlotte's Web
90

16
British shildren's television show about two fruits.
Bananas in Pajamas
91

11
Animated movie by Dreamworks.
Kung Fu Panda
92

12
Nursery rhyme about a girl who loses her sheep.
Little Bo Peep
93

14
Nitrome's 100th Game.
Nitrome Must Die
94

Michael Bond's children's book about a teddy.
Paddington Bear
95

11
Beatrix Potter's rodent [

sic

] character.
Peter Rabbit
96

14
Sir Arthur Conan Doyle's detective character.
Sherlock Holmes
97

15
Another game by Nitrome.
Test Subject Blue
98

18
Popular fable about a 'big bad wolf'.
The Three Little Pigs
99

11
British Sci-Fi show featuring Patrick McGoohan.
The Prisoner
100

DC Comic's Female Superhero.
Wonder Woman
Scratch version
This navigational box contains a spoiler. Click [show] to open the box.

Winnie the pooh
Pokemon
Peanuts
The Cat in the Hat
Monsters inc
Hello Kitty
Alice in Wonderland
Tom and Jerry
Bob Marley
The Cosby Show
Curious George
Snap Crackle Pop
Dora the Explorer
Doctor Who (without the blue telephone box)
Kirby
Alvin and the Chipmunks
Angry Birds
Minecraft
Portal
Pillsbury Doughboy
Ending
| | |
| --- | --- |
| | Incomplete section |
This navigational box contains a spoiler. Click [show] to open the box.

The ending is similar to the ending of Skywire VIP. Although being similar, it is considerably shorter. All of the characters are shown, and they talk. Their speech loops.


Heather: Well folks we're now at the end of our show!

Mat: And what a show it was...

Heather: Everyone turned up who was invited!

Mat: As well as a few who weren't!

Heather: Ah, you have to love those z-listers!

Mat: And with that there's only one thing left to say...

Heather: Good Night and have a safe journey home!

Mat: Hey, isn't this what we said at the end of the first game?

Heather: Yeah, looks like Mat couldn't be bothered to write anything new!

Mat: Hang on, isn't what we are saying now new?

Heather: Yeah, I guess it is!

Mat: Maybe it's the two fans Duncan and Max writing it this time...

Heather: Nah, it certainly sounds like Mat's stupid ramble again!

Mat: Last time we talked for ages before it finally looped...

Heather: Well at least there was a humorous twist!

Mat: Hooray! This will probably not just loop here then!
Version differences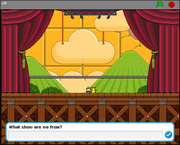 There are some differences from the Nitrome and Scratch version of the game. The differences are some bean characters, the menu, and box words are written in. Also, some levels of the scratch version contain multiple passwords for some levels. Some bean people and passwords which were included in the Scratch version were absent from the Nitrome version, possibly due to copyright issues.
Updates
March 13th 2012 - Nitrome removed the level with the answer My Neighbour Totoro, as neighbour holds two different spellings: Neighbor in the US and Neighbour in the UK and Canada.[1] Nitrome also added some extra characters, referred to as The Z-Listers. The Energizer Bunny was also removed from the game for unknown reasons.
Trivia
The highest possible score that can be obtained in the game (without hacking) is 20,000 points. This score is possible to obtain (
(100 if hint is not used) (100 if the player inputs the password in less than a single second) (game has 100 levels) ), but very hard, as the player has to input the password in every level in less than one second, which requires the player to be able to type extremely fast. The player also cannot use a hint, as that splits the score for the level from 100 to 50.
References