This article is about the skin. For the app, please see Nitrome Touchy.
Touchy is the thirteenth skin released on Nitrome.com. The skin was released on October 31st 2012, celebrating the release of Nitrome Touchy, Nitrome's first iOS/Android app.
Description
The skin features the Halloween week at the time the new Nitrome app, Nitrome Touchy. It includes big words in the center: "·nitrome· TOUCHY". There are nine Cuboys surrounding the words, each one with a mobile device that is the iOS and Android devices. Each Cuboy has a costume of the main character of the game they're playing.
Appearances
Interactive skin

The image below is an interactive skin. Mouse over anywhere to see the description of that object. Click on it to read more.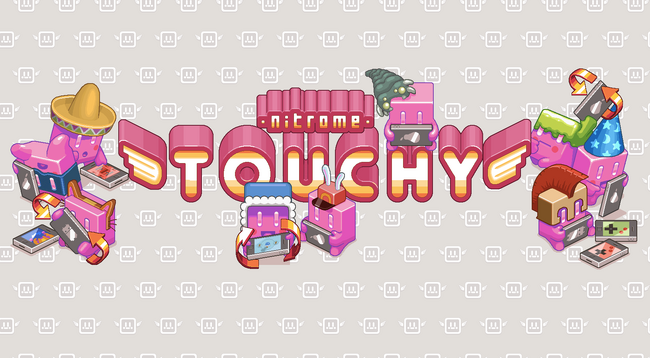 Hints
Unlike most other skins, the Touchy skin doesn't hint any game since it's based off Nitrome Touchy, an app featuring past Nitrome games.
Updates
After the release of Nitrome Touchy to Android, Nitrome slightly changed their skin. Everything was the same, except that the Cuboy with a Spartan helmet and the Flashcat Cuboy's devices had a picture of an Android on them, instead of a pear.
Trivia
This skin breaks from the regular setup of the past twelve skins. Instead of featuring a large, rectangular background, it features an unusually wide transparent background on top of another background.
The presence of a pear on the back of some devices is a parody of Apple placing an apple on the back of their iOS devices. This is the same pear seen on Austin Carter's computer in Nitrome Must Die.
The square body of the Android robot resembles a Lego brick.
This skin is also available on the Nitrome Touchy website.
Community content is available under
CC-BY-SA
unless otherwise noted.