The videos or video modules are a feature Nitrome added to their site on August 26th, with their 2.0 update. It is a section of Nitrome's site that allows people to see their uploaded YouTube videos.
Video module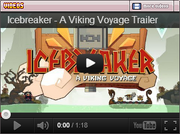 The video module was first created in Nitrome 2.0. It was a small section of the site found in the lower-right corner underneath their Facebook module. It had a small header that said "videos". On the far right side of the header was a small button that said "More videos", and had a picture of a film reel next to it. This button linked the player to the video page. Below the header was a randomly selected video from a list of recent videos Nitrome had uploaded. The player could simply click on the video to begin playing it.
2.0 Update
During December of 2012, the video module was changed a bit. The same heading was still there, but there was no "More videos" button. Instead, below the video, there was a black section that showed four more videos that the viewer could choose from. Clicking on one of these videos would cause it to take the place of the above video, and immediately start playing. Shortly after, however, the "More videos" button was returned.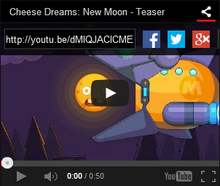 With the release of Nitrome 2.5, the videos module received a slight update. The "More videos" button was again removed (permanently this time), and a small share symbol was placed in the top right corner of the video, next to the title. Clicking on the share button would drop down a bar with the video URL, and three buttons that would share the video on Facebook, Twitter, and Google + (each button having the appropriate site's logo).
Videos page
In Nitrome 2.0, once the "More videos" button was clicked, it would link the viewer to the videos page. On the videos page, the same video was seen in a much larger size. Underneath was a small description of the video, and underneath the description was another small header. This header said "More videos", and then on the far right side was a button that said "go to blog" with a speech bubble next to it.
Clicking on this button would have the person go to the blog. Underneath the header was four more videos. Similar to the Nitrome 2.1 module, clicking a video would reload the page and switch the clicked on video to take place of the previous video on top.
External links